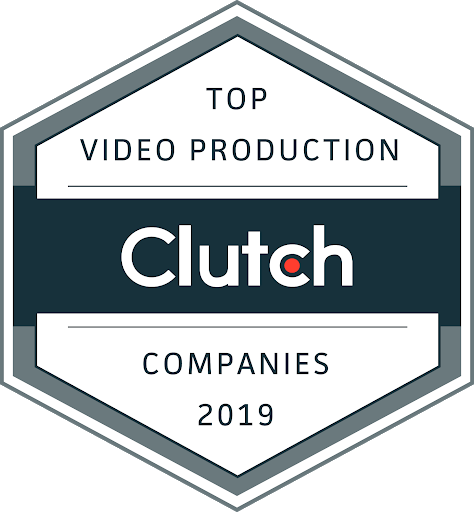 Top Video Production Clutch Company 2019: New Pace Productions
At New Pace Productions, we pride ourselves on being professional, creative, and most importantly, having a deeply ingrained partnership with our clients. All of these ensure that we are listening to our client's concerns, and insures that our product impacts our client's audiences in the best way possible. The importance of media is being realized more and more each year, and our efforts to keep creating these deep partnerships will only increase as each year passes. After recently being recognized by Clutch as one of the top corporate video production companies and explainer video companies, it is clear to us at New Pace Productions that our clients and the community value the work we produce.
Clutch is a Washington D.C. based B2B ratings and reviews company which conducts in-depth research on their companies. The process that Clutch conducts includes market research, analysis of this research, and perhaps the most important, interviews with clients of the company. This creates an incredibly unbiased review and rating of the company unlike any other reviewing company out there. This in-depth process is what sets Clutch apart from its competitors and is an inherent reason as to why we are so excited to have been recognized in two separate categories by Clutch. Our profile currently has 5.0 stars out of 5.0 stars possible and we would love to share some of our client reviews with you below:
"I had great discussions with the team, and they brought creative ideas to the table." – Senior Associate Director, Wharton Events
"New Pace Productions is clever, fun, and easy to work with." – CEO, TGI
Clutch also has two sister sites, The Manifest and Visual Objects. The Manifest is similar to Clutch, but provides potential clients a quick view of the company's size, location, and services offered, all at a glance. The Manifest also includes an easy-to-use price comparison tool, in addition to a How-To Guide for using the services of a 3rd party business for clients to use if they wish to employ a 3rd party business found on the site.
Check out our profile as one of the leading video production companies on The Manifest's list of the Top 100 Video Production Companies.
Visual Objects is Clutch's newest sister site, and offers potential clients a quick view of a company in a very different manner than The Manifest or Clutch. Visual Objects accomplishes this by creating a visual portfolio for the pasts works of each creative company that can be easily viewed by the potential client. Visual Objects has us listed as one of the best marketing agencies on their site and we are incredibly happy with our ranking on their site!
We at New Pace Productions are incredibly honored and humbled by our ratings and reviews on Clutch, The Manifest, and Visual Objects as a Top Corporate Video Production Company. These ratings and reviews are only possible because we are committed to our values, our products, and most importantly, our clients. Our clients are the reason we are ranked so highly on Clutch, and we look forward to continuing our relationships with both Clutch and our clients. Check out our demo reel below!
2019 New Pace Production Demo Reel:
Interested in working with New Pace Productions Contact Us Here