Most people would agree that they're more enticed by visuals rather than a long, daunting body of text. Today, with the expansion of our different modes of communication, simple, plain text can be considered substandard and inefficient in comparison to other methods. This could have to do with the fact that studies show viewers retain around 95% of the information presented in video format as opposed to the 10% of information retained by reading plain text.
In addition to engaging viewers, video marketing also saves companies time and generates money. Due to the comprehensive nature of video in comparison to text, employees and customers spend less time reading and more time understanding how products work, how to sell or buy the products, and how to effectively communicate with one another. Also, video marketing creates a larger profit for companies. In fact, 88% of video marketers report that they feel their work with video is worth the generated income that it provides.
Welcome Customers With Video
Studies show that new customers are expectant of a company to send them an initial email welcoming them to their brand. What better way to show your new customers gratitude than by including a video that features the faces and voices of those who they're buying from. A welcome email that includes video produces a 96% Click Through Rate as opposed to email marketing tactics. To ensure engagement from even those who may not be anticipating a welcome email, you can require a verification link within the welcome email. Your customers will then be prompted to open the email, leading to exposure to your video that otherwise may not have occurred.
This is a great B2B example of a follow up email to welcome a warm lead.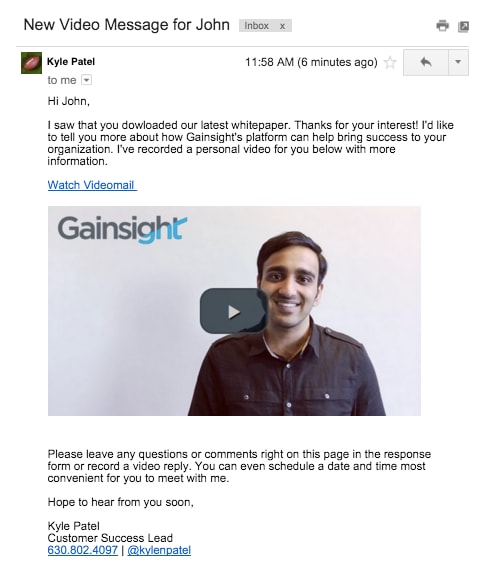 As you continue sending welcome emails, be sure to tweak the formatting and design of the email while monitoring its interaction with customers. In doing so, you'll have a better understanding of how to reach and communicate with customers via video in emails.
Embed HMTL5 for Video-Supporting Email Client
A common issue that video marketing presents for companies is the sometimes incompatibility of embedded videos on certain devices. Only 6 programs are confirmed to be compatible with embedded video: Apple Mail, iPhone iOS 7 and 10+, Samsung Galaxy, Thunderbird, and Outlook for Mac. Although HTML5 isn't a new programming tactic, it has recently become more effective in allowing the implementation of video in emails more seamlessly.
Have a Back-Up Plan
In an ideal world, all of your customers would have one of the 6 email providers previously mentioned. However, this often isn't the case. For those outlying customers, you can include a frame of the video with a corresponding link to a page that contains the entire video. In some instances, you can choose which frame of the video will be shown to customers. If that isn't possible, you may opt to utilize the screenshot feature on your device so that you can choose a frame that will entice customers to click your link and watch the video.
Ensure Mobile Compatibility
Studies show that 3 in 5 people use email on-the-go via a mobile device. Due to these numbers, it's crucial that videos are formatted correctly within emails so that customers don't experience technical viewing difficulties at the fault of the company. To achieve a mobile-inclusive email, be sure to keep the content in one column so that viewers must only scroll vertically and use media queries to establish a responsive page.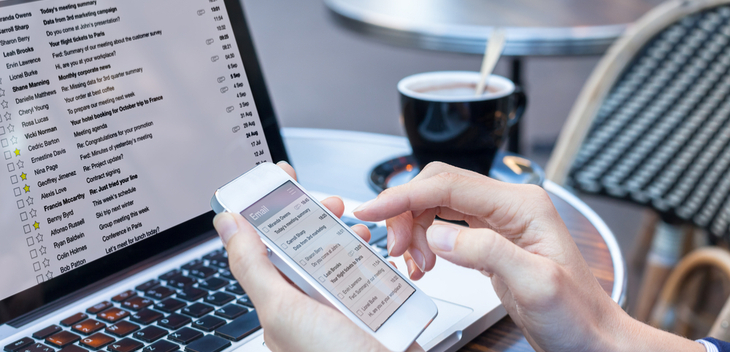 Don't Forget Subtitles
Again, the use of email on mobile phones means companies must adapt to the lifestyles and viewing habits of their customers. When viewing a video in public, people are more likely to watch with the sound off. Subtitles can keep customers from clicking out of the video entirely and they also allow customers with hearing issues to understand the message of the video.
Personalize it
Video marketing shouldn't be a one-size-fits-all venture. Customers connect most with the brands that understand them, empathize with them, and have a solution for their specific needs. Those things can't be expressed to an umbrella of different customers as they are all different. Achieving personalization within email isn't as hard as you may think either. In fact, the tools needed to personalize your content is likely already at your fingertips. Dip into your pool of customer data and begin dissecting this information and ascertain that there is a substantial group of people within that data who will care about the information you have to offer. If you feel as though everyone in your database would benefit from it, it's time to head back to the drawing board and get more specific.
Less is More
Viewers want to immediately understand the message of your video and what you're offering them. Don't make them wait for it. Keep the content simple so that viewers can easily digest the information you want to present to them.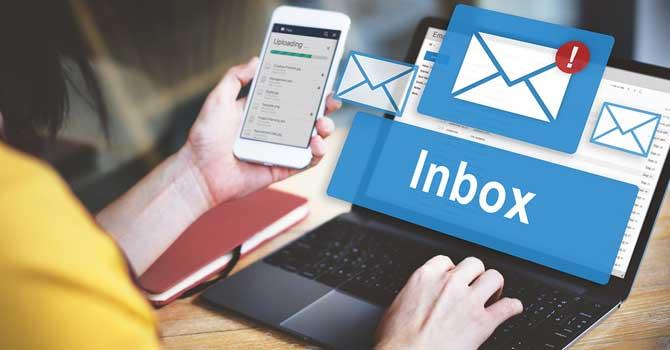 Get Creative
Your video can be about absolutely anything, so let your creative juices flow and see what ideas you come up with. However, make sure that before you begin the creation of your video that there is a clear purpose at the forefront of your creative ideas. Maybe you want to tell a story about the start of your brand, your company's mission, explain an answer to a question that many of your customers have, or offer tips on how to use your product or service. The options are endless!
The Time to Start is Now!
You're now equipped with key steps on implementing videos in email. So, why wait? Now is a great time to decide what your first video will feature. When it's time to execute those great ideas, it doesn't hurt to seek a professional guidance to ensure that your videos are captivating and high-quality.
If you're looking for a hand in producing your next project, give us a
call at 484-453-8419 or visit www.newpaceproductions.com/contact-us