So how can you leverage video to increase your LinkedIn success? We've put together a list of questions for you to consider when building your LinkedIn video strategy and what types of video examples you can use depending on your business goals.
We can start with some great news—Cisco projects that by 2021, 82% of internet traffic will be video. And with LinkedIn prioritizing posts with uploaded video content, also known as native video, adding a few videos to your own LinkedIn page can help you get found.
How can you use video to help your business stand out?
Think about how you are currently using LinkedIn and then ask yourself, how can you supplement your current content with video to help yourself stand out? There are a number of ways you can incorporate video into your content strategy on LinkedIn.

What will your videos be about?
Since LinkedIn has a business focus, think of it less as a promotional platform and more as a place to establish yourself as an expert in your field. What does this mean in terms of content? The videos you share should be more business focused. Try how-to videos aimed at other businesses, company news and updates, industry talks and presentations, and other content related to your field that would be helpful to other LinkedIn professionals.
Behind-the-scenes and team-related videos can also be a fun way to add a little bit of personality to your company on your business page. These videos offer a way to encourage recruitment too, as they show off why potential candidates would want to join your company.
Top 3 successful video examples B2B companies should use on LinkedIn
Most B2B marketing departments try to focus on three objectives:
Brand awareness
Thought leadership
Lead generation
These objectives align with a full-funnel strategy conducive to capturing attention, building authority, and developing actionable opportunities.
Let's take a look at which specific types of video content have proven most effective for these three critical directives.
B2B Video for Brand Awareness
As competitors continue to grow and build out campaign strategies and channels become more fragmented, expanding familiarity and affinity with your brand becomes all the more vital. You can't be top-of-mind for prospects until you're on their mind to begin with.
Video is a tactic that executes this objective because it gets noticed and remembered. If brand awareness is the goal, then creating a lasting impression with video content makes the difference. Here are some options for accomplishing this:
Employee Showcase
Highlighting your office culture and catching happy workers on film always sends a good message, to potential customers and talent alike. When you feature your actual team members in videos, you can gain additional reach because they're more likely to share the content in their own networks, activating the power of employee advocacy.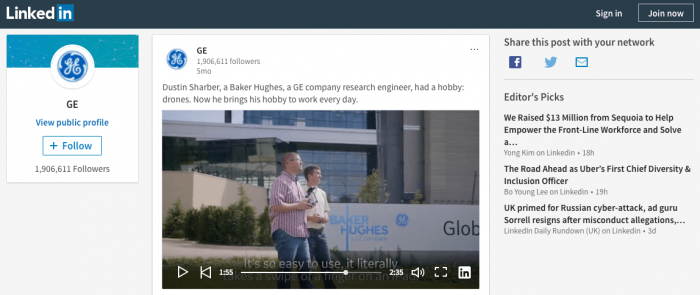 Event Coverage
Filming your company at a conference or industry gathering is a simple way to create video that will be relevant and useful to your audience. Document excerpts of presentations, interview attendees – anything that allows viewers to experience the action vicariously. Because there is often significant discussion happening online around an event, this presents a timely opportunity to extend your organic reach.
B2B Video for Thought Leadership
Research shows that 9 out of 10 business decision-makers find thought leadership content important or critical, and 16% of CMOs spend at least four hours per week engaging with it. Since we also know that senior executives tend to prefer video over copy when both are available, it's easy to see why orienting B2B video content toward this objective is a smart choice. Be the company that is leading the way and pushing the needle forward.
The most impactful thought leadership video content takes a bold stance and challenges the status quo, while communicating the unique knowledge and expertise of people in your organization. Here are some ways your B2B videos can encapsulate these qualities:
Storytelling
Narrative is compelling. When you want to draw viewers in and make a point, this is a great way in doing so. There are different ways to tell a story, and many stories to tell, so your options are wide open. To get you brainstorming some ideas, think about impactful achievements your business has done in the past or is currently doing and share your story to the public.
Interview an Executive
Simple and straightforward, a filmed conversation with one of your company's respected leaders on subjects that matter to your customers can go a long way toward solidifying his or her authority, which then reflects onto the organization. An added benefit is that these videos allow buyers to put a face (or faces) to your brand – quite valuable in this age of impersonal digital interactions.
Discussion Panels
This format is similar to a one-on-one interview, but incorporates multiple voices and viewpoints. Ideally, you'll get participation from influencers outside your walls, alongside your own panelists. This can build credibility with their followers as well as your own.
B2B Video for Lead Generation
In a world where revenue reigns and ROI is king, generating leads is one of the main quantitative factors upon which marketers are judged. Fortunately, LinkedIn presents an excellent platform for it, as the handy Lead Gen Forms feature is fully integrated with video for Sponsored Content.
In order to capture leads, your B2B video must create an incentive for the viewer, giving them reason to take that next step and entrust your company with their info. As you'll see in these examples, that incentive can be either tangible or intangible.
Customer Success Story
"We've helped other companies like yours. Why couldn't we help you?" This summarizes the core reason that testimonials featuring actual customers, sharing their genuine experiences, are so tremendously persuasive. As Telideo writes, "When you put the real people, not actors, that use, trust and work with your brand in front of the camera, you're introducing a true humanizing element to your brand." When done well, this is often enough to compel a buyer to further explore a match.
How-To Explainer
These are among the most useful and highly sought types of B2B videos. Once you've researched your target audience enough to understand their most common and prevalent pain points, you can create instructional videos that show how to solve them. Viewers will be so appreciative, they may be more willing to provide contact info so you can follow-up – especially since you've demonstrated that you know your stuff.
Contest or Promo
This falls more into the "tangible incentive" category. It's a delicate line to walk, because giveaways can be expensive while also cheapening the quality of your leads, so you need to get creative and pinpoint a reward that appeals directly to the people you'd like to attract.