In the last decade, digital video has made its influence known across all levels of educational institutions. The use of a higher-education video helps administrators reach a broader audience, powering an increase in enrollment of prospective students and keeping current students and alumni involved and engaged in their learning community.
Prospective undergraduate students are 84% more likely to research schools online, which makes your website an increasingly important marketing tool for your institution. You can increase website traffic by up to 300% just by adding a video to your website home page.
Your marketing efforts also can benefit from the use of higher-education marketing videos in other applications such as email and social media campaigns. Eighty percent of students say a video influenced their application to an online university, and 68% are likely to mention that videos influenced their final decision.
Video in higher education continues to gain popularity in the wake of the COVID-19 pandemic, as distance learning continues to grow in importance for well-rounded educational experiences.
It's well known that video production for higher education improves the learning experience, which benefits students, teachers and institutions. Complex topics that once seemed difficult to learn and teach are now more understandable with the use of video explainers such as the video we produced for the Philadelphia College of Osteopathic Medicine, "What is A School Psychologist?"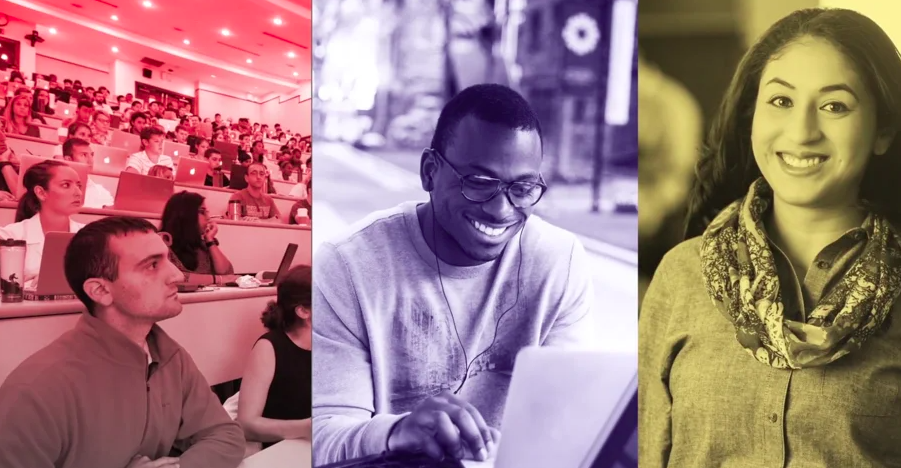 Creative Ideas for Higher-Education Video Production
How can you increase enrollment with a higher-education video marketing strategy? You may consider setting up a channel for your institution on YouTube—86% of colleges and universities in the U.S., Australia, the U.K. and most of Europe have one.
How do you fill a YouTube channel with video content? Check out these creative ideas.
Campus Tour
Producing an engaging, high-quality video tour of your campus and posting it directly to your website's home page would be instant gratification for any prospective student. They'd be able to "be there" with a click on "play."
You could highlight a beautiful campus, great dorm life, specialized learning facilities such as laboratories and medical research facilities as well as sports arenas and entertainment venues. Don't forget to take them into "town," highlighting your school's hometown and all that it has to offer your students, alumni and faculty.
School Event Live Streams
From sporting events and theater productions to award ceremonies and other special happenings, evidence suggests live video is three times more engaging than on-demand video content, so … make a virtual event out of your school's activities by live streaming them, then recording them for posterity—and to double as effective marketing tools later on.
Commencement Ceremonies
A professionally produced video of a commencement ceremony could not only be live-streamed, but it also would be a fantastic memento for any graduating student and alum to treasure for years to come. New Pace recently produced a commencement ceremony for Saint Joseph University.
Student, Faculty and Alumni Testimonials
When considering options for schools, research shows prospective undergraduates are 33% more likely and postgraduate students are 22% more likely to value reviews by current university goers. That's why New Pace produced a high-energy video for The Wharton School that features students who were just about to graduate and their perspectives on how it will affect the rest of their lives.
Career Videos
Produce a high-quality video on different career paths your graduating students and alumni could take after their higher-learning experience is ended. We recently produced a video for the Philadelphia College of Osteopathic Medicine that brings to life the preparation PCOM students get for their future careers in medicine.


A Flavor of Faculty
To demonstrate the caliber of your faculty, put together a montage of classroom and lecture teaching moments from your professors that gives prospective undergrad and graduate students an idea of their expertise, teaching style and breadth of course material.
Personalized Brand Messages
Embedding a video in an email has been shown to boost click-through rates by 300%. If you have a high-profile advertising campaign you're working on for your school, why not give it an equally high-profile voice? Have your president or key faculty member record a personal message on video, one that will bring your message home like no other way possible: from the heart.
Ready to Add Video to Your Higher-Education Marketing Mix?
Since 2007, we've helped our higher-education clients accomplish their marketing goals with higher-education video production that illuminates their unique audiences and inspires them to action.
Find out how our simple four-step process for producing high-level video content can work for you—and don't forget to take a look at our featured work.