The phenomenon of workers leaving their jobs in droves in the wake of COVID-19, referred to as "The Great Resignation," is affecting businesses across all industries. Maybe yours is one of them. Recruiting videos are a great way to tackle this issue.
Now recruiting top talent is more challenging and competitive than ever, so it's important to find ways to stand out against other companies. One of the best strategies for seeking high-quality candidates is to use recruiting videos. To attract the right applicants, you have to get creative to get noticed, and video can do that! It's highly effective because it creates high engagement, allows a large communication of information in a short amount of time, and elicits emotion.
What is a recruiting video?
Recruiting videos have grown in popularity in the past few years. The purpose of these videos is to showcase a company's culture. The content of a recruiting video will likely be viewed by top prospective job candidates, so be sure to have your recruiting video capture the most important elements of your company and its core values.
Here are a few other reasons videos are beneficial for recruiting new employees who are the right fit for the positions you need.
Why use recruiting videos
Increase employer brand awareness – Videos will help boost your website's search engine optimization (SEO) and elevate your brand when it comes to Google searches. This visibility is key to the initial stage of recruiting–awareness of your brand.
Humanize your brand – Videos are great storytelling tools and will give job seekers a way to connect with your company authentically. One tip is to feature current employees in the film in order to develop trust and give a genuine and transparent look into the company.
Attract top talent – Increase job views and convert them to applicants. A CareerBuilder survey showed that there is a 34% greater application rate for job postings that contain videos versus ones that do not. Giving a better picture of your company culture will allow candidates to better understand how your organization functions daily, what the culture is like, and if they will be a good fit. The more they're aware of what they're getting into, the better candidates you'll get. A bonus is this also helps with employee retention.
Engage passive talent – Set apart your job descriptions from others. Videos are a key differentiator from your competition.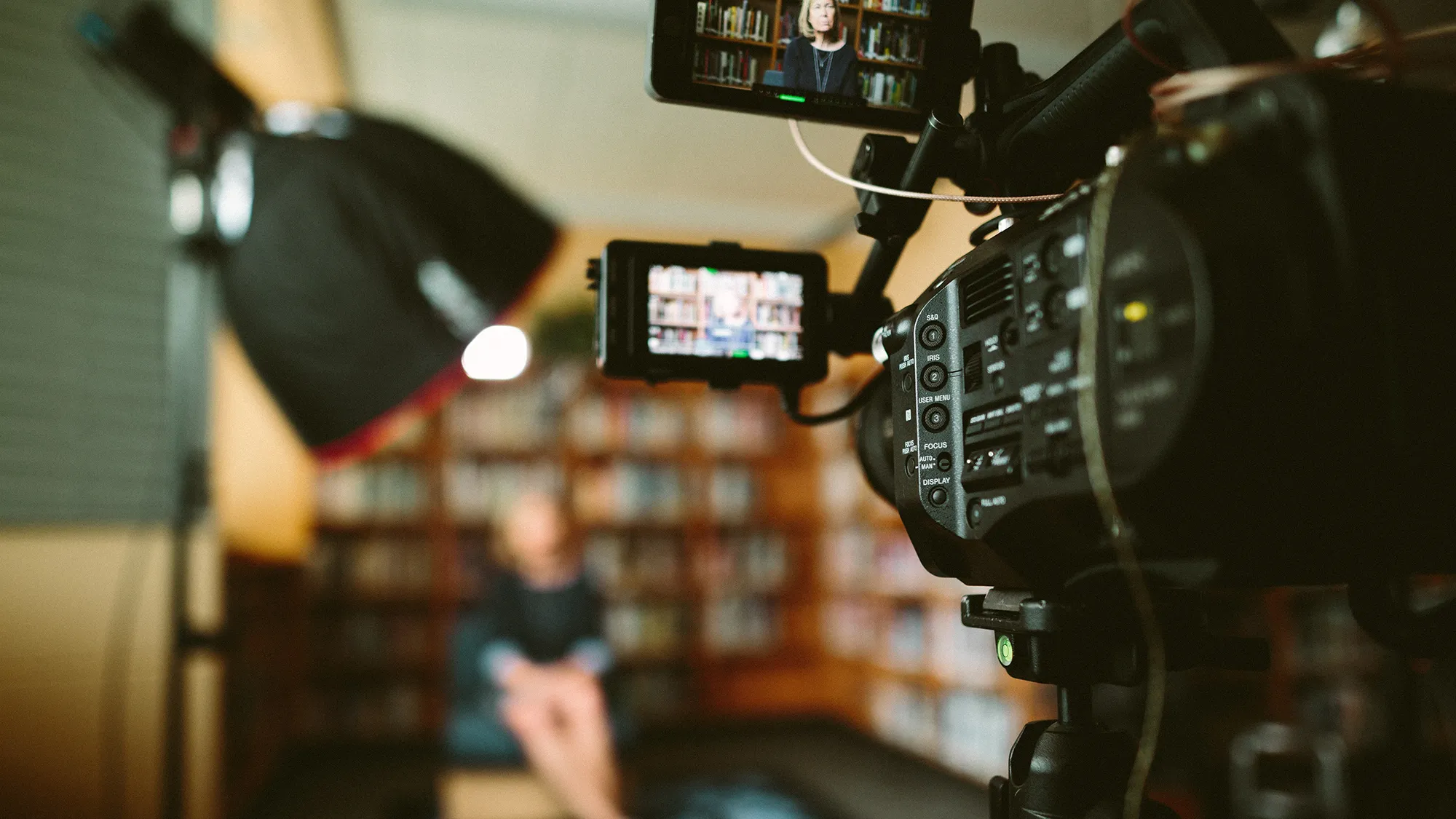 Where to use videos for recruiting
Think outside the box when it comes to using videos to reach and close talented candidates. You can feature unique videos in various locations, tailoring them to which stage in the hiring process an applicant is in when they view them. Here are some ideas of where you can use videos.
Your website's career page – Candidates check here to learn more about your brand and what it might be like to work for your company. Here you can give insight into day-to-day life at your organization, what the workspace looks like, and more.
Job postings – Embed videos into postings to let candidates know the expectations, responsibilities, and qualifications for the job, so they can see if your company may be a good fit for them.
Emails – Include a link to a video when you send a response email. It can be a brief message from the company CEO or a simple instructional video that outlines the hiring process.
Job fairs – A video can be on a continuous loop on a TV screen or computer to allow job seekers who attend the fair to learn more about your company.
Social media – Expand your recruiting efforts by effectively using social channels like YouTube, Instagram, Twitter, and Facebook.
What to include in a recruitment video?
Think about what part of the hiring process you wish to target (brand awareness, consideration, evaluation, onboarding, etc.) and where you plan to use the video as you consider which type of video would best make sense. These are a few elements that could be included in your recruitment video(s).
Testimonials – Record interviews with current employees to showcase their job satisfaction and give a personal insight into your company's work culture.
Tour of the workplace – Allow viewers a glimpse into the office to get an idea of the environment so they can envision themselves working there.
Day-to-day life – Let applicants see what a typical day would look like working at your company so they can know what to expect.
Basic business functions – Communicating this type of content is often best done using graphics, animations, or voiceover. It can help applicants understand more about the role of the job they are seeking, explain the application process, and more.
New Pace Productions can help with your recruiting videos
New Pace Productions has experts in every aspect of filmmaking who have been creating videos for businesses in a variety of industries for 15 years. When you partner with us, we will combine our creative process and skills with your vision to create refined videos that will give your brand an edge over competitors and deliver successful recruiting results.
Get in touch with us to start collaborating on the best video strategy for your business. We're ready to help!