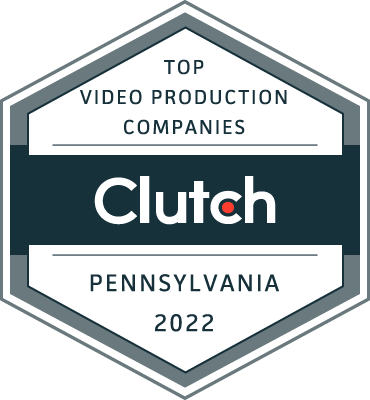 New Pace Productions is a creative video production company dedicated to helping companies establish better branding through video content. We're innovative and open to a myriad of possibilities. Since 2007, we've been a trusted partner to businesses for cutting-edge, cost-effective video solutions. We work closely with you to bring the best possible outcome for the most affordable price.
With that in mind, we're delighted to share that we're recognized as a 2022 Clutch Leader. In the B2B platform's latest research, we were branded as one of the top video production companies in Pennsylvania this year!
"New Pace Productions is honored to win this award and be recognized as a business dedicated to exceptional customer service. We strive to provide engaging and impactful video content for our clients and have fun while we're at it. We hope to continue delivering on this goal and appreciate the opportunity to share more about what we do with the Clutch community."
— JC Costa – Co-Founder, New Pace Productions
A B2B ratings and reviews firm in the heart of Washington, D.C., Clutch connects businesses with the best-fit agencies or consultants they need to tackle their next big business challenge. Clutch covers hundreds of different services from IT to advertising and marketing and ranks service providers based on a range of factors, including past clients and experience, verified client reviews, and market presence.
Check out the newest reviews we've acquired:
"They offer close communication and relationships with their clients while delivering blockbuster quality work."
— Jake Voorhees, Marketing Manager, Pennoni
"They've been transparent about timelines, budgets, and expectations."
— Director of Marketing, Pharmaceuticals Company
Thank you so much to our partners for their unwavering support throughout the years. If you want to see how we maintain a close relationship with our clients, be sure to read the complete testimonials on our Clutch profile.
If you're interested in our top-tier video production, please connect with us right away!