At New Pace Productions, we are a creative video production agency with the multi-disciplinary capabilities and experience to be a comprehensive brand partner for this digital age. Creativity, professionalism, and a true sense of partnership are deeply ingrained in our culture.
With this in mind, we're nothing but proud that The Manifest recognized our quality of work and named New Pace Production as one of Philadelphia's top-rated video production companies.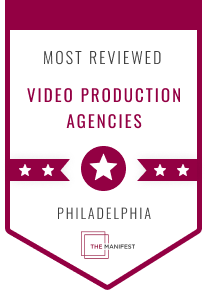 Are you wondering how we got here? Let's take a trip where it all began.
In 2007
Bill Connell and JC Costa established New Pace Productions to help businesses accomplish their goals, illuminate target audiences, and inspire people to action. 15 years later, with steady innovation and a growth mindset, we've mastered the ability to meet the needs of a rapidly evolving digital video environment and be experts in you, your brand, and your mission to find the best way to tell your story.
In 2021
Pennoni Associates, an engineering firm, needed help with their video production projects. We initially set up the tasks and defined the scope, resources, and timeline. Then we explain how the project will go and help the client with creative storyboarding. Finally, we are in charge of the production, editing, and postproduction.
"New Pace's project management has been very good. If we're getting close to our estimated budget or timeline, they warn me so that we don't go over unless I authorize; they're very communicative and transparent." – Jake Voorhees, Marketing Manager, Pennoni
In 2022
The Manifest releases its list of the 15 most reviewed video production companies in Philadelphia, highlighting New Pace Productions as the leader. We're truly honored to receive this recognition, as it confirms the hard work and commitment that we put into every single project that we tackle. Thank you to our clients for their continued support and the opportunity to work with them.
Your Philadelphia Video Production Company
Whether you're looking to create a promotional video, animated explainer video, or a branded video for your company, New Pace Productions does it all! Let's talk about your next video project today.